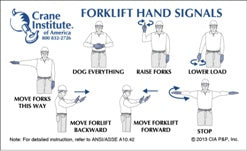 By: Crane Institute of America
Forklift Hand Signal Card. Laminated & weatherproof this wallet size card illustrates the correct hand signals required by OSHA and ANSI/ASME. To insure your forklift operators are using standardized hand signals this card is double-sided with general hand signals on the front, and Telehandler and Standard forklift signals on the back. 
Buy in quantity and save!
2-10 $1.77
11-49 $1.67
50-99 $1.57
100+ $1.47