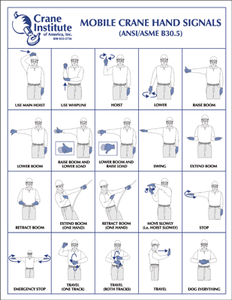 By: Crane Institute of America
Mobile Crane Hand Signal Chart OSHA required, for posting on the outside of the crane or in the work area. Self-adhesive and weatherproof. 8.5 Inches X 11″ Illustrates the correct hand signals required by OSHA and ANSI/ASME when directing operators of mobile cranes.
Buy in quantity and save!
2-10 $13.95
11-49 $12.95
50-99 $11.95
100+ $10.95