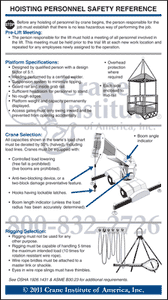 By: Crane Institute of America
Laminated and weatherproof. This pocket size reference card is ideal for pre-lift meetings, training, and to help improve safety when cranes are used to lift personnel. Covers platform requirements, selection of rigging, trial and test lifts and pre-lift inspection. Qty Discounts Available.
Buy in quantity and save!
2-10 $4.55
11-49 $4.15
50-99 $4.15
100+ 3.47